Phase I Environmental Site Assessment
"Ten years of solid expertise and regulatory knowledge to meet
our environmental challenges during the redevelopment of multiple
project sites throughout the Philadelphia Area."
The Goldenberg Group
Real Estate Developer
          Superfund Regulations make current and past owners of property liable for site clean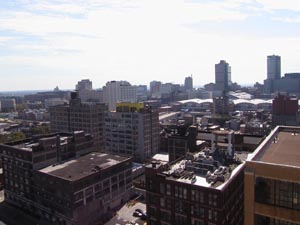 up/remediation activities regardless of the circumstances involving ownership.  In 1986 SARA created a method of protection of all parties involved in real estate transactions known as "innocent landowner defense."  AET's Phase I Environmental Site Assessments are designed to meet ASTM protocol and due diligence requirements thereby minimizing lenders and other parties potential environmental liabilities and costs involved before and after the acquisition of a property.
Scope of Services
Historical Review - Determine if past uses of the site or surrounding area resulted in probable contamination at the site.  Historical Aerial Photographs, historical site maps, tax maps, property deeds, business records, geological records, and photographs will be reviewed in an attempt to re-create the site's history.
Regulatory Agency Records Review - Determine if the site or sites in the surrounding area are listed within records collected from the U.S. EPA, Department of Environmental Resources, and the local health and fire departments.  The information collected  include complaint records, underground storage tank records, National Priority List (superfund), CERCLIS records, area landfill records, RCRA sites listing, and emergency response records.
Click Here to contact AET now or call 1800-969-6238
Visual Site Inspection - Inspection of the site is performed for obvious signs of contamination including staining, strained vegetation, noxious odors, pits, ponds, or lagoons, drums and other refuse, unexplained filling or excavations, and the surrounding area for potential signs of contamination which could affect the site. Underground Storage Tanks (USTs) are noted along with the storage and/or use of other hazardous materials including suspect PCB containing transformers and capacitors, asbestos materials and lead based paint.
          Based on the data collected, AET issues an opinion of the environmental conditions at the site and presents recommendations for subsequent work activities if it's necessary to address concerns raised during the assessment. 
To view representative AET project profiles click here
"Excellent professional skills and practices to manage environmental risk,
which allows us to maximize our business strategies and opportunities."
Hill International Real Estate Partners
Dedicated Team of Experts Committed to The Highest Standards of Quality and Professionalism
Click Here to contact AET now or call 1800-969-6238