Lead-Based Paint And Industrial Lead Consulting & Contracting
"Real world answers from project planning to project completion...
continues to meet our expectations."
Prism Capital Partners, LLC
Real Estate Developer and Management Company
          Lead poisoning continues to be one of the leading causes of adverse health effects to small children.   As a result, HUD Guidelines for the Evaluation and Control of Lead-Based Paint Hazards in Housing were promulgated.  These guidelines established protocol for testing of painted substrates for lead, performance of lead risk assessments and required the abatement of lead-based paint equal to or greater than 1.0 mg/cm² and/or 0.5% of lead by weight.  The City of Philadelphia Department of Health Standard for lead-based paint is an XRF measurement of 0.7 mg/cm2.
Turnkey Contracting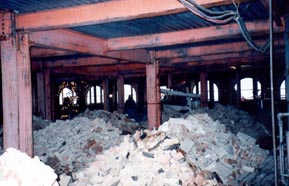 AET's project team is uniquely qualified to develop and implement a strategic plan to control lead hazards during your next facility renovation.  Our design staff will identify lead painted building components, detail specific lead safe work practices, and select the most efficient and cost effective abatement options such as paint removal, component replacement, encapsulation or enclosure.
Emergency Response - Right answers, proven solutions which will be provided within a 24 hour period include:
Prompt on-site response (regularly within 1 hour upon contact) to identify lead painted building components.
Evaluation of trade contractors work tasks which disturb lead painted components and development of site specific recommendations for lead safe work practices and engineering controls to ensure the safe continuance of renovation activities.
Exposure monitoring on affected employees to verify compliance with OSHA's lead standard.
Click Here to contact AET now or call 1800-969-6238
Additional Scope of Services
Building Surveys - AET utilizes portable XRF analyzers to perform non-destructive sampling/analysis of painted substrates for comparison with HUD criteria.  Where inconclusive readings are found, paint chip samples are collected for confirmation purposes.  Painted and varnished components are evaluated within units and common areas.
Demolition Surveys - Buildings constructed before 1978 routinely have lead coatings (paint or varnishes) applied to the exterior and interior building components. Evaluation of these coatings to determine lead content is best completed by paint chip sampling. AET's evaluation includes coatings with maximum application which will be disturbed during demolition and coatings applied to metal substrates where cutting and burning operations can result in significant worker exposure. This data is used for notification purposes to the demolition contractor to inform/protect their workers and implement necessary controls in accordance with OSHA's Lead in Construction Standard.
Risk Assessments - Where lead-based paint is found, a visual inspection for deterioration/damage as well as surface contamination sampling for lead dusting is performed.  Individual wipe samples are collected utilizing ASTM/HUD protocol from window sills, window wells and floors.  Soil samples are also collected from bare soil areas including playgrounds to fully evaluate children's potential lead exposures.
Project Design - Technical specifications are prepared by our project design team which detail specific abatement requirements for building components.  The most efficient and cost effective method is employed from possible options including component replacement, on/off site stripping, encapsulation or enclosure.
Project Management/Monitoring - AET oversees lead abatement projects to document compliance with project specifications and perform air monitoring for comparison with OSHA's lead standard.  Inspection logs and reports of activities during the course of the abatement operation are maintained. Inspections include checking the standard operating protection and decontamination systems as well as packaging and disposal of lead waste. Waste characterization (hazardous or non-hazardous) through TCLP testing can also be performed.  Project completion is verified via a visual inspection of the abatement area followed by final wipe/surface contamination sampling.
Exposure Assessments - OSHA's Lead in Construction Standard 29 CFR 1926.62 requires employers performing construction, alteration, and/or repair including painting or decorating to evaluate their employees job tasks for comparison with the Permissible Exposure Limit (PEL) and Action Limit (AL).  Exposure assessments consist of personal samples representative of multi-day full shift monitoring for each job classification in a specific work area.  Where exposure assessments are determined to be below the AL, a negative initial determination can be prepared by our CIH staff.
To view representative AET project profiles click here

"Qualified lead professionals who understand our tenant obligations, lease agreements,
and ensure solid lead safe work practice are implemented in our buildings." 
 
Westtown School
Regulatory Compliance... On Time... On Budget
Click Here to contact AET now or call 1800-969-6238