Asbestos Contracting/Consulting/Laboratory Services
"Since 2003, timely professional inspections of over 250 retail facilities throughout the US
prior to store occupancy to identify multiple environmental parameters and provided
reliable and innovative solutions to manage our Environmental Risks" Director of Store Design
Dollar Tree Stores, Inc. 

Turnkey Contracting
          With over 28 years of services totalling tens of thousands of asbestos projects, AET has the proven expertise to complete any size asbestos project.  AET's asbestos contracting services are implemented with maximum control of health and safety considerations and minimum interference with your business operations.
Emergency Response
          A single phone call will result in the right answers and proven solutions to the following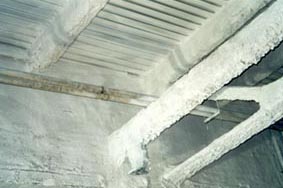 questions within a 24 hour period. 
Confirm that debris or building materials disturbed during renovations is in fact asbestos containing.
Determine if asbestos fibers have been released in sufficient quantity to represent an asbestos health hazard.
Prompt decision-making on the methods, procedures and timing to address identified asbestos problems.
Professional communications with client management, facility occupants and regulatory officials on the implementation of response actions.
Dispatch of licensed, specifically trained and equipped asbestos contracting personnel to complete the required removal, repairs or cleanup.
Detailed recordkeeping of completed response actions including final visual inspection and air testing.
Click Here to contact AET now or call 1800-969-6238
Additional Scope of Services
          Asbestos Hazard Assessments/Building Surveys - AET's EPA AHERA Certified
and/or State licensed Building Inspectors conduct asbestos surveys prior to real estate transfers, renovations, or demolition of buildings.  Our Inspections include an inventory of accessible building areas to determine the presence of suspect asbestos containing materials. Documentation includes estimates as to linear/square footages of each material, its condition, accessibility, friability and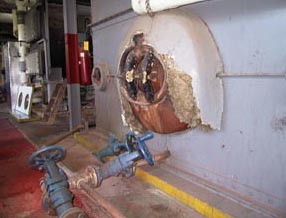 potential for fiber release.  Analysis of suspect asbestos containing material samples is performed in AET's AIHA/NIST Accredited Environmental Science Laboratory.  Building inspection reports include detailed recommended response actions and cost estimates for abatement by an EPA Certified Designer or Management Planner.
          Abatement Project Specifications - AET's project design team prepares project specifications which contain an explicit, detailed scope of work, directives and required procedures for remediation.  AET can also provide a list of qualified bidders, mediate pre-bid meetings/site inspections, assist with the bid review/contractor selection, and supervise of the pre-construction meeting.
          Asbestos Project Management/Monitoring - AET assigns a  dedicated Project Manager to oversee each abatement project  and ensure efficient scheduling, priority analysis, and compliance with project specifications.  An on-site Industrial Hygiene Technician can perform daily air monitoring before, during and after the duration of each project in accordance with federal, state, and local regulations and maintain of daily inspection logs.  AET verifies the completion of the asbestos project by conducting a visual inspection of the abatement area to ensure that the work site is in compliance with the established criteria.  Inspections are followed by air monitoring of the abatement area utilizing aggressive air sampling to ensure final airborne asbestos levels meet design criteria or mandatory state/local regulatory limits.  A comprehensive report detailing the daily work activities and related tests are then prepared by a Certified Industrial Hygienist.
          Operations and Maintenance Programs - Removal of all asbestos containing materials in a building is frequently neither technically nor economically feasible.  Wholesale removal is not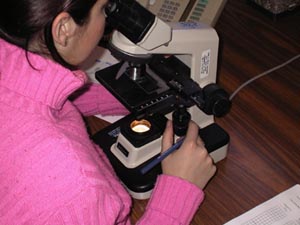 mandated by existing federal, state or local regulations.  The goal of an asbestos operations and maintenance program is to manage the asbestos material in-place by maintaining materials in good condition, isolation/restriction of designated areas and by the implementation of effective written work practice procedures. 
To view representative AET project profiles click here
"Well organized and executed project management during 16 month asbestos removal project involving 90 tons of asbestos... accomplished incident free...  cost effective services provided with safety as the #1 Priority" Chevron - Baltimore, Maryland Asphalt Refinery
Solution Driven, Expert Skills, Rapid Response,
On Time, On Budget
Click Here to contact AET now or call 1800-969-6238