Brownfield Investigation/Remediation/Redevelopment
Reduced Sales Prices, Tax Incentives in combination with Federal/State Release of Liabilities. Make these Eye Sores and Attractive Business Opportunity...
AET has Proven Expertise to make these properties WIN-WIN!
          Economic redevelopment of environmental contaminated properties requires a multi-disciplinary approach due to the diversity of contaminants which may be present both within the interiors of the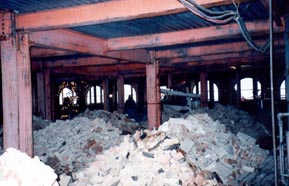 buildings and the exterior grounds.  EPA regulations utilize the term "Brownfield" for these abandoned, idled, and underused industrial and commercial facilities where expansion or redevelopment is complicated by real or perceived contamination.  The EPA estimates there are approximately 450,000 Brownfields in the United States.  The GAO estimates the cost to cleanup all those sites could be as high as 650 billion dollars. Potential investors, developers, and users of Brownfield sites must perform proper due diligence to identify the specific environmental contaminants present, and determine the feasibility of remediation including their associated remediation cost.
Click Here to contact AET now or call 1800-969-6238.
Scope of Services
1. AET's project management team reviews existing records, including completed Phase I Environmental Site Assessment to identify potential contaminant sources.  The extent of impact of planned renovation/demolition are evaluated based on the planned land use for the property.
2. AET's project management team implement comprehensive Phase II Environmental Site Assessments to evaluate the contaminant sources including:
Asbestos containing building materials - EPA NESHAP regulations require all friable, regulated asbestos containing materials to be removed prior to renovation/demolition.
Lead based paint - OSHA's Lead in Construction Standard requires the protection of workers performing lead related work tasks. Lead containing waste disposal is also regulated per EPA RCRA regulations.
Transformers - PCB containing dielectric fluid is regulated by EPA TSCA regulations.  Abandoned
transformers are frequently vandalized for scrap copper resulting in surface and soil contamination.
Light ballasts - Capacitors contain PCB oil and potting material can also contain PCB.  Proper handling and disposal is required.
Thermostats, Switches, Fluorescent Lights - Contain mercury and workers must be protected per OSHA regulations and waste is regulated by EPA.
Heat/Smoke Detectors and Luminescent Clock Dials - May be radioactive.
Process Vessels, Piping, Drums - The integrity of the tanks/systems must be checked as they may contain hazardous waste.
 
Waste Lines/Traps/Drums - Residual product or sediment can be hazardous.
 
Soil and Groundwater Contamination - Investigate leakage or spillage of product or waste material onto ground surface.
3. AET's project management team compile the findings into a comprehensive remediation work plan including remediation cost estimates.  This plan may be submitted to Federal/State/Local municipalities as a part of a Voluntary Cleanup Program.
4. The approved remediation work plan is incorporated in a project remediation design document (i.e. Specification).  Bids shall be received/reviewed from the remediation contractor to complete the remediation plan.
5. AET's project management team also provides construction management services to oversee the implementation of the remediation work plan. 
6. AET's services include appropriate attainment sampling to verify environmental contaminants have been abated and statewide health standards for soil and/or groundwater have been achieved.
7. Final project documentation and findings are then complied by AET's project management team for submittal to state authorities to obtain release of liability afforded by EPA CERCLA Regulations.
In Pennsylvania, release of liability is afforded under the Pennsylvania Land Recycling and Reclamation Standard (Act 2). 
To view representative AET project profiles click here
Communication, Communication, Communication... Accurate Timely Reports, Regulatory Compliance
Click Here to contact AET now or call 1800-969-6238.