Mold & Water Damage Assessment/Remediation/Contracting
Turnkey Contracting
          Molds are found almost everywhere, they can grow on virtually any organic substances, as long as moisture is present.  To control mold growth in buildings you must control excess moisture.  Response to a water impact episode is the key to controlling mold growth. Response should be initiated within 24-48 hours.  Water impacted porous building materials must be either dried or discarded.  Under a single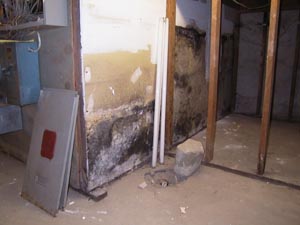 contract, AET routinely responds to water infiltration episodes and implements proven decision-making protocols which have resulted in significant savings to our clients and continuation of business operations during required remediation activities. 
Emergency Response - Right Answers, proven solutions which will be provided within a 24 hour period include:
Prompt on-site response (regularly within 1 hour upon contact) to identify/confirm mold growth.
Listing and approximate quantity of building materials affected including moisture measurement testing results of each material.
Evaluation of hidden mold based on IR camera investigations.
Evaluation of odors and air quality via airborne exposure testing.
Professional decision-making on remediation means and methods including prompt scheduling of work.
Additional Scope of Services
1.  Comprehensive Mold Investigations
Visual Inspection - Performance of a general site investigation of the area of concern to determine the presence of mold growth on exposed ceiling systems, walls, and floors.
Moisture Testing - Moisture content in affected building materials are evaluated with direct reading moisture meters. The extent of damage can be delimited for remediation and drying purposes.
Concealed Areas - Destructive sampling to inspect inside wall cavities can be performed, drying within these concealed areas is essential to prevent mold growth.
Infrared Camera Survey -Moisture impact on building materials and the extent of damage can be generally monitored by observation of differences in surface temperatures.  These slight temperature differences can be observed utilizing an infrared camera.  This non-destructive investigative technique is a valuable tool in AET's mold and water damage assessments.
HVAC - This inspection is tailored to identify obvious concerns or noted problems.  Initial inspections typically do not include an engineering assessment of the equipment design and/or mechanical constraints.  Where engineering assessments are warranted, these services are coordinated with building maintenance personnel and engineering staff.
2.  Sampling Protocol/Evaluation - The presence of mold/fungi and bacteria are confirmed by specific sampling:
(a) Bioaerosol Samples are collected utilizing Anderson N-6 Impactors to evaluate air quality.  Samples are collected in each area of concern, a comparative non-concern area and outdoors (preferably near the fresh air intake).  Results of bioaerosol monitoring in the area of concern, non-concern area and outdoors (standard industry practice).  In addition, specific species of bacteria and fungi present will also be reviewed based on their association with water damage, mold amplification, or their enhanced toxicity.
(b) Total Spore Count sampling for non-viable spores are analyzed by microscopic methods.  These spores which can cause adverse health effects are released by mold/fungi which can be present and are not culturable on media plates.  As with viable sampling, samples are typically collected in the area of concern and non-concern area and outdoors.
(c) Mold Identification includes bulk sampling, swab sampling or tape lift sampling of the suspect mold present.  Samples can be cultured (viable) or analyzed by microscopic methods (total).
(d) Interpretation of Sampling Results:  AET's CIH prepare a detailed report to include observed conditions, comparison of testing results, and formal recommendations, as warranted.
3.  Mold Remediation Scope of Work/Protocols
AET's CIH staff develops mold remediation plans which include removal of macroscopic mold growth, repair the defects that lead to water accumulation (or elevated humidity), and implementation of drying procedures to minimize potential for additional colonization of mold on remaining building materials.
Mold remediation plans include detailed scopes of work and required controls, work practices, personal protective equipment, etc. for successful remediation
Where hidden mold is present, AET will mark wall areas which are expected to be removed.
AET can act as the mold remediation contractor or conduct a pre-bid walk-thru of selected mold contractors to identify specific mold removal locations, answer prudent questions and issue any addendum to mold work plans as needed
4.  Mold Remediation Project Oversight
AET's onsite project manager will ensure the mold remediation work plan is followed.  This includes proper installation of isolation barriers, HVAC equipment isolation, and negative pressure is established within the work area.  Daily review of contractor work procedures including proper waste handling, transport and disposal is also performed.
AET will inspect previously conealed/hidden areas for unknown mold impact and extend/delete the size of the project to verify work is complete
5.  Post-Remediation Assessment/Testing
AET's CIH staff will provide a written professional opinion that the mold remediation work plan has been satisfactorily completed.  This will be based on our onsite visual inspection, moisture measurement testing and mold spore air quality testing per current industry standars.  AET's professional opinion is the basis for final release criteria for the mold remediation contractor.
6.  Litigation, Consultation & Support
AET'smold-related services are directed by CIH's with specialized education, training and over 20 years experience - making their expertise and insights highly credible and defensible in court.
To view representative AET project profiles click here
Real Answers... Practical Solutions that Minimize Your Costs